If you are particularly looking for a cheap wetsuit, you do have a number of options, depending on your other requirements.
Thinner
As is the way, buying cheap usually means you have to compromise in other areas. The easiest way to find a cheaper suit is to buy a thinner one – 3mm instead of 5mm for example. If you feel the cold, I would not recommend this compromise. It is likely to spoil your time in the water, and you may not come back!
Less coverage
Another compromise is to buy just a 'shorty wetsuit', the equivalent of shorts and a T-shirt. This can work for a 'quick dip' in the water, or if the weather and water temperatures are warm. You will need to be aware that you're exposed to scrapes and stings, and at a higher risk of sunburn through the thin film of water on the skin.
Second hand – eBay
If you are prepared to accept a second hand suit, then eBay is one of the best places to look. If second hand would work for you then take a look around the rest of this site to find what makes the best wetsuit for other reasons, and then try to find something similar on eBay.
If you are looking for a quality second hand suit, as a general rule, don't look for anything over about 10 years old. The neoprene does lose its elasticity over time, and depending on the quality of the neoprene used and how they have been looked after and stored, you may not be getting the bargain you were hoping for!
Although you may be looking for a second hand suit, I have been lucky on more than one occasion and bought brand new $200 suits for around $1, when no one else has bid!
Second hand – Ex rental or surf schools
Another source for cheap suits is ex-rental suits or surf schools, or similar at the end of the season. Many centres and schools like to start new each season, so the old suits are sold off cheaply, but as a word of caution, they may have seen a lot of abuse during the year, so look for tears and repairs!
'Cheap' brands
If you 'must' have brand new, there are a number of brands that focus on low price.  The compromises are typically poorer quality neoprene, with less stretch, or poorer seams between the panels of the suit. In either case, they may not keep you as warm or as comfortable as some of the high end suits.
Many of these brands can be found on eBay, or directly via their own websites.
Some brand suggestions are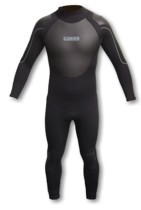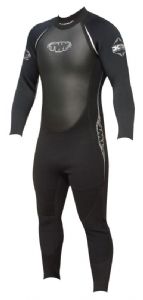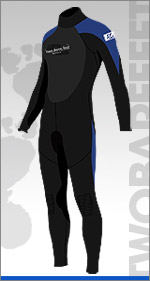 Large retail stores
One more source for cheap wetsuits is some of the large retail stores such as Wal-Mart, Sainsbury's and Tesco, in particular those stores near the sea. They usually carry a fairly limited range, and are mostly children's sizes, but can be a good idea for a 'last minute' emergency purchase!
If can add any further suggestions of cheap brands, or ways to obtain suits cheap, then please add your thoughts below. Much appreciated!
If you are a retailer with a focus on cheap suits, or a manufacturer that I haven't mentioned, PLEASE get in touch!